Hamptons Sunrooms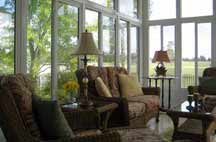 Glass Sunrooms for Year-Round Use
Enclose existing porches or add a complete room with roof:
Enjoy the outdoors year-round in a beautiful Hamptons Sunroom.  An all-season sunroom adds the most value to your home and gives continual enjoyment all four seasons of the year. 
Have you ever wanted to enjoy a leisurely meal outside or stretch out in your favorite lounge chair to read a good book only to have your plans ruined by the weather?  An all-season sunroom can allow you to savor these moments any season of the year!
Some popular uses for Hamptons All Season Sunrooms include:
A library or music room
A family room
Enclosing your existing deck or patio for entertaining Holiday guests
An exercise room
A large room for your pool table or a play room for the kids

Vinyl window frames and thermally broken wall components allow our Hamptons Room to be efficiently heated and cooled for the most comfortable sunroom available.

This Sunroom Source Hamptons All Season Sunroom features the same high-quality glass windows you'll find in custom homes.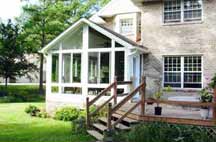 Horizontal Roller style windows in white or almond provide a traditional appearance that matches virtually any color and style of home.

Kickplate height is custom.  Kickplates may be glass or solid. Glass transoms and trapezoid windows are available to enhance the look and appeal of your sunroom.

This room comes standard with Low-e coating on the glass to improve energy-efficiency.

Glass options include:  Double-paned insulated glass, Tempered glass, Tints to reduce heat gain and glare.